what our customers say...
"We found Bill and his crew to be honest, reliable, trustworthy, and committed to our project. The quality of work is stunning and has been noted by our friends, family, and even strangers passing by. It was an absolute pleasure hiring Chwala's Construction. We highly recommend them to anyone looking for a home builder."
Jon & Debbie Anderson from Cadott, WI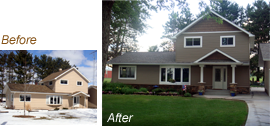 share your story...
We are honored to have you as a customer, and we value what you have to say about your experience with us. Please click on one of the links below to share your story: